PineNut.com / Goods from the Woods Wild Crops Forest Farm
The Goods From The Woods Forest Farm works with native Ozark plants and heirloom vegetables. There are hundreds of species of food and medicine plants which grow native to our Ozark Farm. It is wild!
Expanding the natural systems into agriculture, the farm draws upon the wisdom of elders and those with first hand experience about the forest land. Using traditional regional knowledge and first hand observation of wild systems, Goods From The Woods Farm created Natural Systems agroforestry. As a productive small farm Goods From The Woods offers only select, small harvests of useful native plants grown in rich organic soil from certified wild seed and rootstock. Together with a group of neighbors Goods From The Woods formed "A Wildcrafter's Growers Group". The group receiving a S.A.R.E. grant to grow native plants on small farms. Their primary objective is preserve native biodiversity and regional gene pools through use on small farms.
New unique products, 100% nature-based
We create unique wild botanical products. Native plants, wild roots and seeds are collected from our own wild forest. Currently in development research are even more Native Plant Products, such as Natural Flea power, Fertilizer plant tea, and a wild variety of native plant extracts for their hydrosol usage. We've seen in our own experience that pine nuts are just the tip of the iceberg for "Creating a Demand for Wilderness with wild products."
Harvesting the right way - sustainable and thoughtful
We use Wild Native plants of our farm for flowers, oils and seeds. We harvest early morning before the plant loses its moisture. The plant is hung to dry. We use Wild Bergamot Flowers in our alternative, chemical free carpet cleaner, our laundry cleaner, our baths and in the kitchen. Plants rebloom after harvest and seeds are collected in the fall.
Distilling Our Farm's Native Plants
Once dried and cleaned, the plant can be distilled. We support small scale, sustainable level development of phyto-enterprises with the full spectrum of native wild plants grown on our farm. We use the plants' properties, making bath and natural cleaning products from our distillations. We handcraft our products slowly and with great pride, offering only small seclect, high quality products.
Our Native Plant Products - truly "Goods from the Woods"
Our responsible stewardship of our forests and skillful production methods based on tradition and perfected through experience result in some of the purest and most unique wilderness products that you can find. Please visit our Store for a selection of wild nuts, flower hydrosold, wild teas and other unique products.
Biodiversity conservation
We are also a certified Wild Native Nursery in Missouri. We offer 100% natural Ozark plants grown from Certified Wild seeds and roots. Forest plants and wilderness products sold on this site are harvested in a sustainable, respectful, responsible manner. We are trying to help people find economic ways to conserve private lands, biodiversity and forests in Missouri, offering ideas for small scale, sustainable land use based in the natural plant systems. There are so many ways to conserve biodiversity on small farms through developing economic uses for our regional ecotype native plants!
And what about nuts?
And yes! We would not be ourselves if we also did not collect from our forests some of the rarest and most flavorful nuts: wild hickory nuts, wild black walnuts, wild butternuts, and more! We adore our hickory nuts - we even created a special page to try and convey our delight at this savory nut. Please visit our Store for the current selection of wild nuts in stock.
Wild teas - the healing flavor of deep wilderness
While many of our wild teas go so fast they are often gone before we have a chance to list them, sometimes we do have enough persimmon tea and other delicacies to offer at our online Store. The opportunities are endless - so if you are ever tired of city living, you can easily make your living in the woods! :)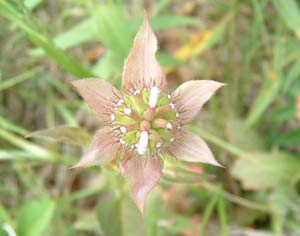 Rich in biodiversity, the Ozarks offer a dramatic setting to produce some of the world's most unique floral essences.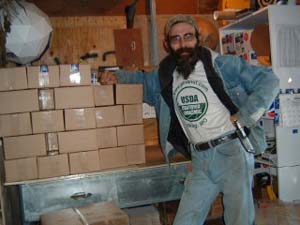 George Frazier, master distiller and Wild Crops Farm manager, with packages ready to be shipped to customers.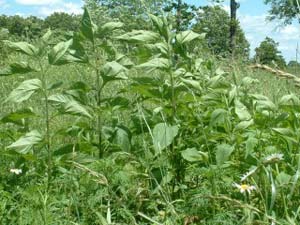 No monoculture cropping here! All our medicinal plants are harvested wild or grow in mixed plantings.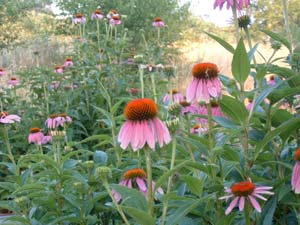 Echinacea is an amazing plant, yet it needs to be grown properly. Our micro-scale plantings in organic raised beds produce the most potent echinacea ever.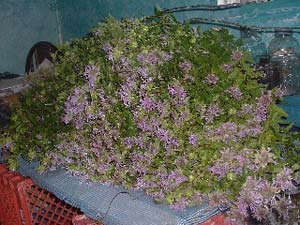 Our responsibly harvested plants ready for drying and distillation.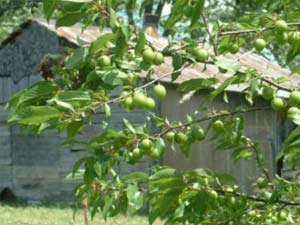 Food and medicine is everywhere!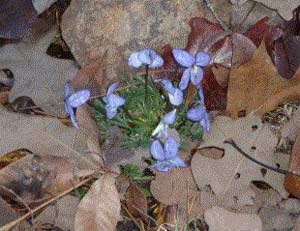 We work with Nature's cycles, and never fail to see the amazing beauty dissolved in every forest patch.