Contact us
By Mail:
PineNut.com / Goods From the Woods
667 County Road 4060
Salem, MO 65560

By Phone:
573-247-2689, Monday - Friday 9am-6pm Central Time

Email: goodsfromthewoods@gmail.com
Email list: Please join our mailing list for information on pine nuts, special offerings and news. We do not spam, only send a few emails per year, and you can unsubscribe at any time.
---
About PineNut.com & Goods From the Woods
PineNut.com is the leading online retailer of American Pinon Pine Nuts and other wild-growing crops, also promoting the sustainable use of pinon forest lands. We advocate and consult on sustainable forestry approaches, and work with private landowners, communities, and government agencies to achieve responsible stewardship of our natural heritage.
PineNut.com / Goods From The Woods Wild Crops Farm was founded by Penny Frazier in 1995. We work exclusively with wild harvested, special forest products from American Forests. Penny and her family are headquartered in Salem, Missouri on their wild crops farm, also working part of the year in Nevada and New Meixco with the American pine nuts species.
Penny started working to demonstrate solutions to environmental problems resulting from poor use of natural resources in the early 1990s. She developed a number of social and environmental theories related to land use and human economic needs. This environmental philosophy is at the heart of her family business, Good From The Woods. She firmly believes that an abstract appreciation of eco-friendly approaches is not enough, there must be real success on the ground. So she set out in 1995 to demonstrate that by creating a demand for a wild product, we can create economic incentives for wilderness conservation. She is a tireless advocate of the forest species through demonstrating the economic value in native plant ecosystems.
Her company engages in sustainable forest management, in gathering, processing, and distribution of non-timber forest products (especially wild growing nuts such as pine nuts), in growing nursery forest stock, and in related forestry consulting with its partners.
Penny, her husband George Frazier, and friends and family work together with young people in their community as harversters, passing generational knowlege of the native plants on to young men and women who wish to harvest with them. George is technically the farm manager. He is a master distiller of Ozark native plants, including witch hazel, elder flower, plum flowers and other native florals. Additionally, George is geodesic dome designer, working in cold formed steel and other alternative construction media. His gift of engineering has led to the development of the small scale pine nut processing system. It's first design was as a Valentine's gift for Penny.
The Fraziers own 20 acres of Ozark forest land and lease an additional 100 acres of Ozark forest land specifically for harvesting wild-growing plants and demonstrating that obtaining livelihood and profit from the forest can go hand-in-hand with restoration. Our Company is a producer of wild crops derived from a wide range of wild-growing forest plants, including Blackberry, Black Cohosh, Black Raspberry, Eastern Redbud, Elderberry, Fiddlehead Ferns, Hazelnut, Heal All, Hickory Nuts, Huckleberry, Jewelweed, Mondaras, Passion Flower, Pawpaw, Persimmons, Sassafras, Skullcap, Slippery Elm, St. John's Wort, Strawberry Leaf, Walnut, Wild Plum, and Witch Hazel. The Company is also a Certified Organic Processor of Certified Organic Witch Hazel hydrosol. Our products have a wide range of uses including: edible plants, berries and nuts; medicinal plants; and ingredients (such as essential oils and hydrosols) for beauty & cosmetics products. For detailed information, please see other sections of this website.
Our company's leading role in the field of sustainable management of non-timber forest products has received extensive national acclaim and recognition. We were recipients of a $17,000 grant from the U.S. Department of Agriculture's Sustainable Agriculture Research and Education Program (SARE) for a project demonstrating profitability in certified organic wild crops. We have been featured in numerous mainstream, government, scholarly, and non-profit media outlets and publications, including:
---
Growing a business: a history of PineNut.com
1990. Distinguished in 1989 by "Marquis Who is Who of American Law" Penny grew bored with the legal world and began looking for better uses of her research skills and creative talents (full bio article). If you saw her on a recently on network television, you should know she's not above a good practical joke - in fact, loves to spoof.
Penny started looking for a wild product that would meet people's income needs, and a wild land use which would create better ecconomic returns in its wild state than in a developed or industrialized state. She fully researched the journals and scientific publications on the pinyon juniper range of the Southwestern United States. After reading 2.5 feet of scientific reports and journals, she began her first project with the Pinyon Forest. Penny's background means she asks questions no one else asked. You may want to look at her pinon pine nut research as well as her publication on bad science. Pinon Penny just loves great nuts!!!!
2001. In 2001 the Frazier family began to work with other small farmers in creating "A Wildcrafter's Growers Group" . The first group project was to explore growing and adding value to native plants. The group received S.A.R.E. producers grant to help preserve native biodiversity through use on small farms.
2007. We create botanical products and are certified wild/organic. (In 2007, the farm was sold and the Frazier's purchased a larger property.) Native plants, wild roots and seeds are collected from our certified wild forest and prairie. We then grow the plants organically or with small farm generally accepted practies in the case of other local farmers or growers.
Harvesting Wild Natives from our farms for flowers, oils and seeds. We harvest early morning before the plant loses its moisture. The plant is hung to dry. We use Wild Bergamot Flowers in our alternative, chemical free carpet cleaner, our laundry cleaner, our baths and in the kitchen. Plants rebloom after harvest and seeds are collected in the fall.
Distilling Our Farm's Native Plants. Once dried and cleaned, the plant can be distilled. Purdue has some interesting work on Mondarda Distillations. We support small scale, sustainable level development of phyto-enterprises with the full spectrum of native wild plants grown on our farm. We use the plants' properties, making bath and natural cleaning products from our distillations. We handcraft our products slowly and with great pride, offering only small seclect, high quality products. Several larger companies are currently working to deveop skin care products with our wild harvested floral waters.
2008. Goods From The Woods is launching partnership ventures with private landowners in wild crop organic certification and value added botanical production.
Due to the sucess and growth in our production of certified organic wild crop products, Goods From The Woods purchased a larger woodland, complete with springs and began working with woodlot oweners and forest landowners under wild crop harvest leases. Even though the Ozarks repersent hundreds of native plant species and it is our home, we continue to be actively involved with work on Native American Pine Nuts in the South West.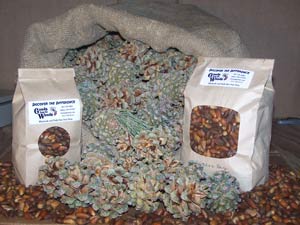 Sharing the bounty of America's generous pine nut harvests.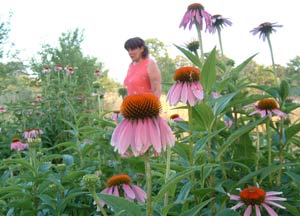 Penny Frazier, founder of PineNut.com and Goods from the Woods midst the medicinal echinacea flowers on her wild crops farm.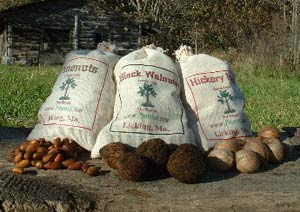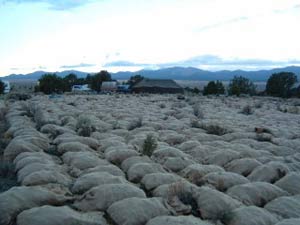 Our responsibly harvested fresh pine nuts waiting to be packed and shipped to you.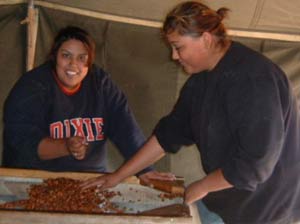 Careful manual sorting of our pine nuts assures highest quality and supports the local community.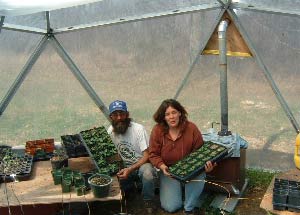 Inside our geodesic dome wild plants nursery which George built.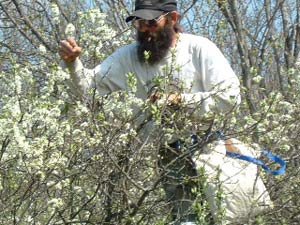 George carefully hand-harvesting wild blooms, offering you unique authentic essences and fostering our connection to Mother Earth.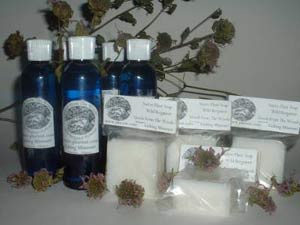 All our wild flower essences and soaps are home-made in small batches.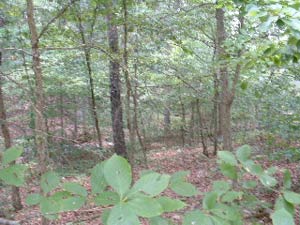 Rich in biodiversity, our Ozark woodlands produce amazing floral essences and other wild crops.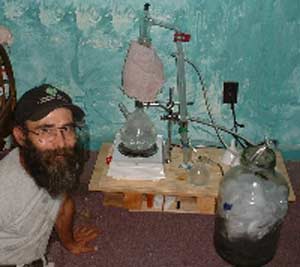 A wizard of gentle distillation, George helps bring forth the essence of each bloom.