Hickory Nut Information & Recipes
Both shelled and in-shell wild hickory nuts are available from our Online Store. Seasonal availability, so if you see them in stock, order yours today!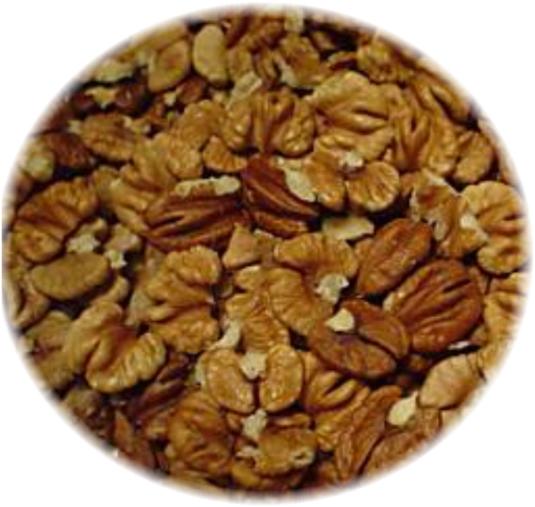 Hickory nuts are perhaps the most delicious nut that can be grown in the Midwest, even surpassing the pecan for flavor in the author's opinion. In Missouri, we have two native species of hickories that make excellent eating: the shagbark hickory (Carya ovata) produces the most delicious nut while the shellbark hickory (Carya laciniosa) produces a much larger nut. There are 17 varieties of hickory trees, 13 of which are native to the United States. The extremely hard hickory wood is widely used to smoke American hams. All varieties of the hickory tree bear nuts, the most popular being the PECAN, partially due to its thin shell. The common "hickory nut" has an extraordinarily hard shell, the cracking of which usually requires a hammer swung with a great deal of muscle. Hickory nuts have an excellent, rich flavor with a buttery quality due to their high fat content. They're available only in certain parts of the country and are generally sold unshelled. Hickory nuts can be used in a variety of baked goods. aes.missouri.edu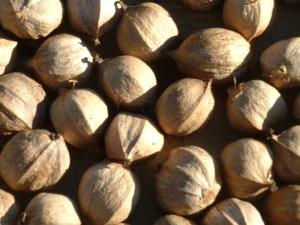 Juglandaceae: Carya sp.
Pignut hickory: C. glabro (Mill.) Sweet
Small pignut (False shagbark): C. ovalis (Wangh.) Sarg.
Shellbark (Shagbark hickory): C. laciniosa (Michx. f.) Loud.
Mockernut (Bigbud hickory): C. tomentosa (Poir.) Nutt.
Nutmeg hickory: C. myristicaeformis (Michx. f.) Nutt.
The above species are all native to parts of the U.S. and produce nuts with edible kernels. They are not grown commercially for the nuts, but some quantities are harvested from native or ornamental trees. The trees become large, up to 100 feet or more, with compound, pinnate leaves. Fruits are generally near globose, glabrous, and somewhat ridged, and 1 to 1.5 inches long. The nut is encased in a fleshy husk which becomes fibrous and opens as the nuts mature. The shells are hard and woody. The kernels do not separate from the shells readily. Limited quantities either in shell or as kernels are marketed. www.hort.purdue.edu
Native American Use of the Hickory Nuts
The Creeks store up (the nuts) in their towns. I have seen above a hundred bushels of these nuts belonging to one family. They pound them to pieces, and then cast them into boiling water, which, after passing through fine strainers, preserves the most oily part of the liquid; this they call by a name which signifies hickory milk; it is as sweet and rich as fresh cream, and is an ingredient in most of their cookery, especially homony and corn cakes." Georgia Bartram 1792.
Nut cracking advice
TIP: Save LOTS AND LOTS OF Money, crack your Hickory! A good cracker is produced by Davebilt Co, 707-263-5270, 410 Soda Bay Rd Lakeport CA 95453. When you're ready for a session of cracking, soak a quart or so of nuts in hot/warm water for an hour or so before cracking - this will allow the shell to flex/split, rather than just exploding once you reach critical pressure.
Food Values Hickory - Nutritional Highlights
Hickory nuts (dried), 9 nuts (1 oz.)
Calories: 186
Protein: 3.6g
Carbohydrate: 5.2g
Total Fat: 18.2g
Fiber: 1.8g
Good source of: Magnesium (49mg), and Thiamine (0.25mg)
Grandma's Hickory Nut Pie
3 eggs, slightly beaten
3/4 cup of sugar
1 cup of white Karo syrup
1 teaspoon of vanilla
2 tablespoons of butter or margarine
1 cup of hickory nuts, chopped
1 unbaked pie shell
Mix the eggs, sugar, syrup, vanilla, and margarine, adding the nuts last. Pour into pie shell and bake in a 400ºF. oven 10 minutes then reduce the heat to 350ºF. and bake for 40 additional minutes.
Missy Theo's
3 eggs, slightly beaten
3/4 cup of sugar
1 cup of white Karo syrup
1 teaspoon of vanilla
2 tablespoons of butter
1 cup of hickory nuts, chopped
1 unbaked pie shell
Mix eggs, sugar, syrup, vanilla and margarine, adding nuts last. Pour into pie shell and bake in 400ºF. oven for 10 minutes, then reduce heat to 350ºF. and bake 40 additional minutes.
Hickory Nut Pie 4
9 inch unbaked pastry crust
2 tablespoons of flour
1 tablespoon of sugar
3 eggs
1/3 cup of milk
1 1/2 teaspoon of vanilla
1 pint of bottle light corn syrup
1 1/2 teaspoon of butter
2 tablespoons of graham cracker crumbs
1 cup of hickory nuts or pecan halves
Mix flour and sugar in 2 quart bowl. Beat in eggs, milk and vanilla until smooth. Bring syrup and butter to boil over low heat. Beat into egg mixture. Sprinkle cracker crumbs and nuts over bottom of unbaked crust. Pour in filling. Bake at 325ºF. for 45 minutes or until just set firmly. Cool before serving. Mound with whipped cream and sprinkle with hickory nuts or pecans.
Turkey Day Hickory Nut Pie
1 cup of white syrup
1 cup of dark brown sugar
1/3 cup of melted butter
Dash of vanilla
1 heaping cup shelled hickory nuts
3 eggs
Pinch of salt
Mix above ingredients well. Pour into an unbaked 9-inch pie shell and bake at 350ºF. for 45-50 minutes.