Pine nut nutritional values & species
Pinon nuts have outstanding nutritional value and compare favorably with pecans, peanuts, and walnuts. They supply all amino acids and provide significant amounts of vitamin A, thiamin, riboflavin, and niacin. The nuts of Pinus edulis are rich in phosphorus (1 245 mg/kg), which is equivalent to soybeans. Scroll down for an historical and in depth discussion of American pinon pine nuts and the differences in pine nut species.
We want people to discover the difference in American Pine Nut Species
There are two types of Pinon Nuts, or Pinyon Nuts. The words are again, technically interchangeable. In common use - at least with respect to American Pine nuts - both spellings are used. Pinus edulis is New Mexico and Colorado Pinon tree seeds, or hard shell pine nut. Pinus monophylla is our Jumbo Soft shelled Pinyon Nuts from The Great Basin. Both varieties are included in the New Mexico Pinon Act which states in part: "Pinon nuts" means the edible nut which is the product of the pinon tree, scientifically known as genus "pinus", subgenus "strobus", section "parrya", subsection "cembroides".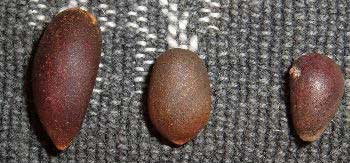 Pictured above, left to right: Pinus monophylla (Nevada Jumbo Soft Shell Pinyon); Pinus edulis (New Mexico hard shell pinon); and imported Chinese/Siberian pinenuts.
Fatty Acid Information
The fats of the pinons are also of high food quality. The most abundant fatty acids in the nuts of Pinus edulis and Pinus monophylla are unsaturated oleate, linoleate and linolenate. Pinus monophylla, Pinus nelsonii, Pinus maximartinezii, and Pinus edulis, from the same subsection Cembroides. These grow in semi-arid regions in the Southwest of the United States and in Mexico. They are united by their low content of delta5-olefinic acids (1 % at most). Dehulled seeds are generally rich in oil, and are characterized by high levels of both oleic and linoleic acids, generally with less than 12 % of saturated acids. Delta5-olefinic acids are low as compared to most other conifer species
Comparison of Pinon Nut Food Values with other pine nuts



Type of Nut

Protein (%)

Fat (%)

Carbohydrate (%)

Pines:

P. edulis


P. monophylla
P. cembroides
P. quadrifolia
P. sabiniana
P. strobiformis
P. pinea
P. sibirica
P.gerardiana Pecan (Carya illinoensis)
Peanut (Arachis hypogaea)
English Walnut (Juglans regia)

14
10
19
11
30
28
34
19
14 10
26
15

62-71
23
60
37
60
52
48
51-75
51 73
39
68

18
54
14
44
9
7
7
12
23 11
24
12
Detailed Pinyon Pinenuts Nutrition 100 grams
Water g 5.900
Energy kcal 629.000
Energy kj 2632.000
Protein g 11.570
Total lipid (fat) g 60.980
Carbohydrate, by difference g 19.300
Fiber, total dietary g 10.700
Ash g 2.260
Minerals
Calcium, Ca mg 8.000
Iron, Fe mg 3.060
Magnesium, Mg mg 234.000
Phosphorus, P mg 35.000
Potassium, K mg 628.000
Sodium, Na mg 72.000
Zinc, Zn mg 4.280
Copper, Cu mg 1.035
Manganese, Mn mg 4.333
Vitamins
Vitamin C, ascorbic acid mg 2.000
Thiamin mg 1.243
Riboflavin mg 0.223
Niacin mg 4.370
Pantothenic acid mg 0.210
Vitamin B-6 mg 0.111
Folate mcg 57.800
Vitamin B-12 mcg 0.000
Vitamin A, IU IU 29.000
Vitamin A, RE mcg_RE 3.000
Lipids
Fatty acids, saturated g 9.377
16:0 g 4.416
18:0 g 2.011
Fatty acids, monounsaturated g 22.942
16:1 g 0.250
18:1 g 21.528
20:1 g 1.164
Fatty acids, polyunsaturated g 25.668
18:2 g 24.882
18:3 g 0.787
Cholesterol mg 0.000
Amino acids
Tryptophan g 0.146
Threonine g 0.367
Isoleucine g 0.450
Leucine g 0.834
Lysine g 0.434
Methionine g 0.207
Cystine g 0.210
Phenylalanine g 0.443
Tyrosine g 0.424
Valine g 0.598
Arginine g 2.251
Histidine g 0.277
Alanine g 0.605
Aspartic acid g 1.054
Glutamic acid g 1.969
Glycine g 0.589
Proline g 0.622
Serine g 0.49